oilSeed Preparatory Plant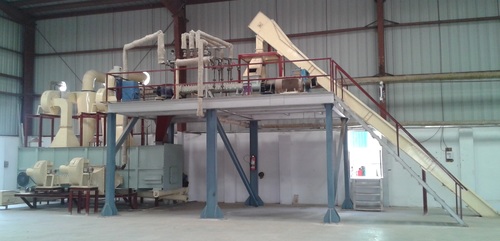 oilSeed Preparatory Plant
Price And Quantity
Product Specifications
Product Description
Cracker Machine
The seeds are delivered from the Bulk storage area into the day bin to the preparation building. In order to record the quantity processed, a weighing scale is installed below the day bin.
The cleaning, Destoning of the oil seeds serves two purposes. The first one is the removal of impurities and second one the regulation of the bulk density. Since the preparation process is based on volumetric quantities the latter purpose is of special importance to the flaking process.
The first step of the cleaning is the removal of tramp metals by means of a rotary type magnet separator. This is followed by screening in which the first on-stream cleaner should be provided with a rough scalping screen or perforated metal sheet to separate oversize trash and below that a second sieve to get rid of the sand. To separate light-weight particles, mainly hulls and dust, the second sieve must also be provided with an aspiration channel. As an average one can estimate 1% impurities will be obtained in this cleaning section.
Oil mills processing soybeans only are sometimes provided with dry de-stoners. Plants operating expeller presses are frequently equipped with such equipment.
The next step in the process is the size reduction of the seed. This is effected by cracking rolls. Most cracking rolls comprise an integral feeder with a permanent magnet and two pairs of corrugated rolls arranged one on top of the other so that the first set of rolls feeds the second set. In the case of soybeans, the seed is cracked to 1/4 to 1/3 of bean size. The granulation of the crushed seeds is checked on a 2.25 mm screen. The retained portion should be about 75% of the original sample. The granulation after cracking affects flake size, which in turn impacts product volume inside the extractor.
Prior to flaking, the crushed seeds are conditioned to 85C. The conditioned seeds are then flaked. By deforming seed particles when flaking, press and shear forces are building up, thus rupturing the individual oil cells.
To avoid de-mixing during transportation of the crushed seeds and especially to promote uniform distribution, the conveyor above the flakers should be a chain conveyor. In order to absorb possible capacity fluctuations in the preparation the distribution conveyor above the flakers should end at an overflow (surge) bin. From this bin the overflow will be fed back into the process at constant capacity.
In order to keep the insides of the flaking rolls clean, aspiration should be provided at the outlet chute below the flaking rolls. To ensure careful transportation of the flakes into the extraction plant, chain conveyors operating at low chain speed must be installed.